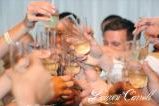 Options Bring Satisfaction
Our event packages include all the items listed to ensure you and your guests will be satisfied.

Meals for Every Occasion
Birthdays, anniversaries, weddings, meetings, and more are no problem for us.
The Bantaa family has provided catering services to Tangipahoa, Livingston, Ascension, and surrounding areas for over 30 years.
Good food, reasonable prices, and friendly service are the hallmarks of our success.
For more information or to book an event, call (985) 320-0533.